Kuu Dere

Student Info

Role
Unknown
Occupation
Student
Class
3-2
Club
None
Age
18
Persona
Coward
Crush
None
Strength
None
Appears
Unknown
Kuu Dere is the main protagonist of Kuudere Simulator and Kuudere Simulator 2. She is a female student who currently attends Akademi High School.
Appearance
She has short sky blue hair and red eyes. She wears the default female school uniform unless customized. Kuu wears knee-high white socks and the same skin tone as Yandere-chan. Her bust size is 1.
Kuu currently wears Honoka Futaba's hair, but this is rumored to change.
Personality
She is a Kuudere. This means she is very unexpressive and cold-hearted, as she has trouble showing her emotions. It is very rare that a Kuudere will be expressive.
Among the personas currently implemented in the game, she is a Loner. If Kuu sees a corpse/murder, she will run home and call the cops. She cannot participate in physical fights against murderers. If a camera is aimed at her, she will hide her face.
It is possible, in the future, that she will have a unique persona. This would be called "Apathetic", which would be shared with Robot-chan.
Routine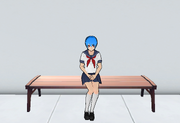 At 7:05 AM, Kuu enters the school grounds. She walks to her locker at 7:10 and changes shoes. At 7:15, she walks to the roof and sits down on a bench.
At 8:00 AM, Kuu goes to Classroom 3-2 and sits at her desk. She starts classes at 8:30, and leaves to the roof at 1:00 PM.
Kuu goes to class again at 1:30 PM and finishes her afternoon classes at 3:30 PM. Afterwards, she heads to her locker and changes shoes again. Then, she lingers around the lockers until 3:50 PM, when she walks home.
Quotes
"I don't even need a Senpai."
"Who needs a Senpai anyways?"
Gallery